Okayama University Satellite Office in Tokyo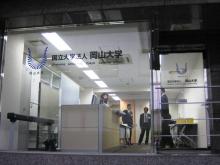 Recently, Okayama University opened its satellite office near Tokyo Station.
One teaching staff member and one faculty staff member will be stationed in the office for any enquiries.
The Office is open to anyone.
Although reservations are unnecessary, calling ahead of time is very much appreciated.
Office hours: Monday to Friday 9:30 – 18:15 (closed for holidays)
Description of Operations:

To support the students looking for jobs
To promote university-industry cooperation
To support any research activities
To conduct public affairs activities
To gather information
To support the Alumni Reunion
Outline of the facilities:
Office space of 62 square meters
Room capable of electronic presentations
Computers, Photocopy machine
Internet connection (Web pages only available through campus network can also accessed)
Maximum number of people for seminar: 14
Desks, Chairs are movable for meeting or seminar
Contact: Okayama University Satellite Office
Kyobashi Kyodo building 1st floor
1-5-5 Kyobashi, Chuo-ku, Tokyo
Zip code: 104-0031
For enquiries, please call during our office hours.
Contact: Planning and Public Information Division – Okayama University
TEL: +81-86-251-7292
Location: 4 minute walk from the Yaesu Side of Tokyo Station. For further information, please check the our Japanese web site.