Okayama University Tokyo Office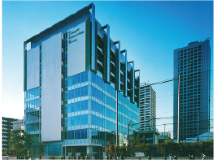 The Tokyo Office is located in the Campus Innovation Center, one station from JR Shinagawa Station and in front of JR Tamachi Station.
In addition to the Tokyo Office, you can use the Campus Innovation Center meeting rooms and shared space.
For use, advance reservations are required, so please contact the Tokyo Office via E-mail.
Tokyo Office
Office hours : Monday to Friday 9:30-18:15 (closed for holidays)
Description of Operations
To support the students looking for jobs
To promote uinversity-industry cooperation
To supprt any research activities
To conduct public affairs activities
To gather information
To support the Alumni Reunion
Outline of the facilities
Office space of 62 square meters
4 computers / Internet connection
Video conferencing system
Projector, Screen
Desks, Chairs (wireless LAN connection is possible)
Photocopy machine
Newspapers (NIKKEI, YOMIURI), Job related books
Locker
Campus Innovation Center meeting rooms
Office hours : 9:00-21:00 (every day as a general rule)
(except for the period of the year-end and New Year and a leave of absence)
Pay conference rooms : 5
Free space : 5
For details, see the Campus Innovation Center web page
Please make advance reservations by E-mail to the Tokyo office.
E-mail : o-tso(◎)adm.okayama-u.ac.jp
For inquiries, please contact us by replacing (◎) with the @ mark.
Contact :
Okayama University Tokyo Office
#601(Campus Innovation Center Tokyo)
3-3-6 Shibaura, Minato-ku, Tokyo
Zip code : 108-0023
For enquiries, please call during the Tokyo office hours.
TEL : +81-3-6225-2905
Location:
1 minute walk from East Exit of JR Tamachi Station.
For further information, please check our Japanese web site.