Okayama University and International Baccalaureate
Welcome to our IB homepage as we celebrate our 10th. Anniversary of IB Admissions this year (2012-2022)! Okayama University was the first national university in Japan to introduce IB admissions in 5 faculties and one program in 2012 and in all 11 faculties in 2015. As a general rule, the entrance examination method throughout the university is mainly document screening (including interviews in some faculties). Okayama University has confirmed that IB education and IB diploma qualifications can be thoroughly evaluated as equivalent to university entrance qualifications through visits to IB schools in Japan and overseas and holding lectures and study sessions on IB education. In the IB entrance exam, the IB subjects and their grades are specified as per the admission policies of each faculty and department.
After enrollment, full-time faculty members will support IB students in their studies and campus life. We regularly conduct interviews and questionnaire surveys to understand the satisfaction, anxiety and worries of IB students, and provide advice and support tailored to each individual student. There is also a LINE social networking platform, as a place for communication and consultation between IB students and the IB advisor, at all times. In 2021, Okayama University set up an IB Promotion Office, where full-time faculty and staff was stationed, and we plan to increase the number of IB admissions in all 10 faculties and 1 International Program.
Currently (as of April 1st, 2022), Okayama University has 101 IB students enrolled, including 25 graduates, 50% of whom are from IB schools in 11 prefectures in Japan and about 50% from 19 countries worldwide. IB students play an active role in various globalization activities that the University is working on as an institution that has adopted the Top Global University Project as a Super Global University (SGU). So far, 20 IB graduates have joined the workforce in Japan (including three at Okayama University Hospital), while others have moved on to graduate school.
Okayama University provides information and answers questions regarding university admissions and posts admissions at college fairs, open campus and IB schools, and via zoom webinars and online booths sponsored by the Japan University Consortium. If you are interested in our university, please feel free to apply to any of our 1tenfaculties and 1 International Program. We look forward to welcoming you to Okayama University.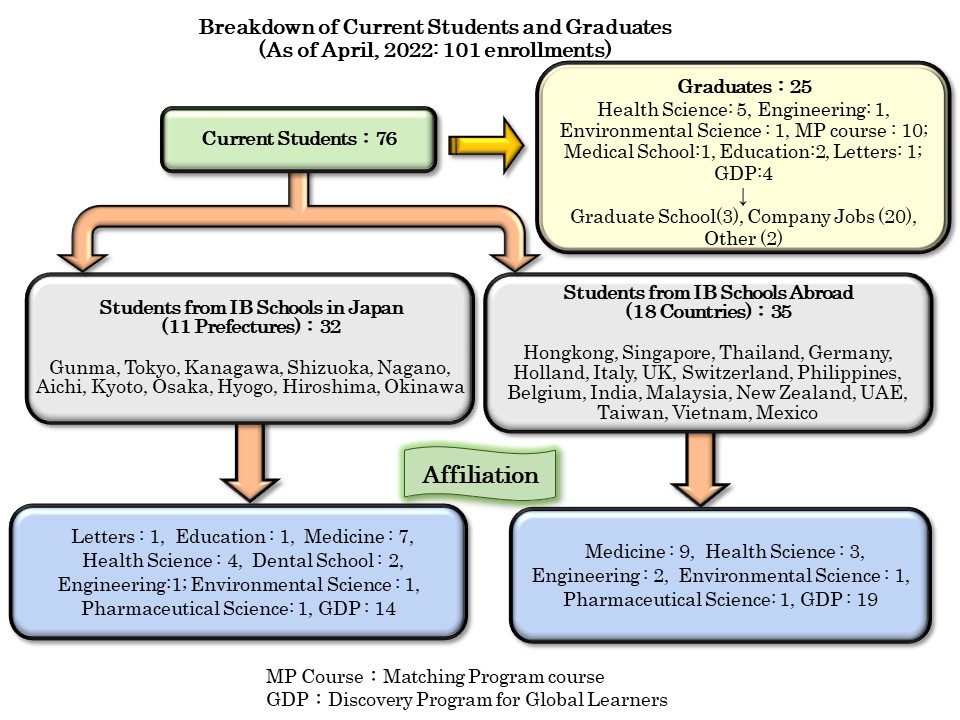 Why did IB students choose Okayama University?

(10-year Feedback from enrolled IB Students/ IB College Counselors /Parents )
Recognizes

the IB Diploma &

does not require

the National Kyotsu Test
The

topmost IB-friendly

University in Japan
All

10 Faculties

and

1 special program

welcome IB students
All 10 Faculties have a

clear subject and grade requirements

Can apply to

most faculties with documents only

Can apply to

most faculties with Maths SL

Offers

Spring

and

Fall admissions

There are

many IB students enrolled

The only University which has a

strong IB student support system

Recommended

by senior IB students/IB College Counselors and IB PTA members
Very

global

; has

many study abroad programs

; active in

SDGs

Siblings

enrolled as IB students

Near to

own/parents/relatives' hometown system
Has an overall

global student community

Student voices

on the IB Homepage are very

inspiring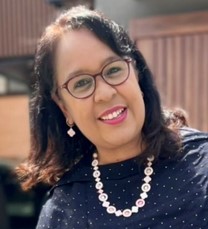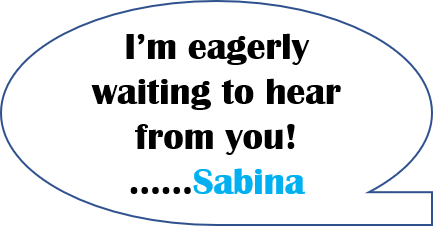 Dr. Sabina Mahmood, MD, Ph.D.
Associate Professor & IB Program Director
Short Profile
*Okayama University Medical School Alumni
*IBO Certified IB Biology and CAS Instructor
*IB-Student Advisor since 2015
*Deeply involved in :
IB student recruitment
IB student support
IB Education
IB Research
Promoting IB based education in Japanese Higher Education
Email: sabina@okayama-u.ac.jp