Study in Japan Information
Student's Report
Kumamoto University, Graduate School of Science and Technology,
Computer Science and Electronical Engineering, second year in Doctoral course
Tin Ni Ni Kyaw

My name is Tin Ni Ni Kyaw. I am a lecturer from the Department of Information Technology, Yangon Technological University, Myanmar. Now, I am in a doctoral course, majoring in Computer Science, in Kumamoto University by Japan International Cooperation Agency (JICA) scholarship program.
In Kumamoto University, the credit requirement for the doctoral course is only 12 credits, 8 credits for majoring subjects and 4 credits for special project seminars. So, we had to take at least 4 majoring classes during the first two years to fulfil the credit requirement. As a result of the low credit requirement, we can deeply emphasize on each subject. For a Ph. D student, the most important thing is to do research with no heavy load and so, I really like this credit system. And, there are also two compulsory classes, namely "Current Science and Technology in Japan" and "English for Science and Technology". These classes are very effective for the international students because we can get knowledge about current research areas and popular topics in Japan. Also, we can learn how to write a research paper, how to make a presentation and get experience in group discussions and making presentations in class.
In the first year, I had to take four major classes for 8 credits, as well as all the classes of my supervisor, including the master class, to understand the fundamentals of theory and applications relating to my research. During the second semester, I started searching and reading papers relating to my research area. Now, I am a second year student and I am doing my research under the supervision of my advisor. Fortunately, my supervisor is an expert in my current research field and he can supervise me very well. According to his lectures, suggestions and guidelines, I have already submitted three conference papers and presented in international conferences. Moreover, I am now trying to submit a journal paper which is also a graduation requirement in Kumamoto University.


For social activities, the University and some private organizations often arrange many types of programs and activities, such as short trips, welcome parties, music festivals, students' bazars and so on. All international students, can participate in those activities happily and freely together with Japanese students. Japanese students are very kind, honest and active. Moreover, there is an international student office in the University and we can ask them for help in job searching, family invitation and so on. The staff are also very kind to us.
There are many places to visit in Kumamoto. Among them, Kumamoto Castle and Aso Volcano are famous for their interesting histories and beautiful scenes. And then, Kumamoto City Zoological and Botanical Garden is also popular among the visitors for many different kinds of flowers, plants and animals. Whenever we have a chance to visit together, my friends and I go around the Kumamoto City and make a shopping in Shimotori.
Sometimes, Myanmar families in Kumamoto city invite all Myanmar students to their homes and treat us Myanmar food. At that time, we feel that we are in Myanmar with our families and we can reduce our stress and feelings of homesickness by sharing our feelings with each other.


As Japan is well-developed country, we have to learn many things from Japan and apply them to improve our communities. If you want to study abroad, I would like to recommend you to study in Japan.


Comment about Study in Japan
Chiba University Graduate school of Medical and Pharmaceutical Science,
Major: Frontier Medicine and Pharmacy Public Health Laboratory
KYAW THIHA
I am from Myanmar and I am now studying human genetics for doctoral course of four year program in this university and having had many good experiences from it. It is a great opportunity to come to Japan for study. Not only great for the study of your interest but you get the chance to peek into how the Japanese think and feel.
I think this university supports foreign students very well. If you don't understand Japanese so much, don't worry about it. They have special classes for improving your Japanese language abilities. Furthermore, if you have any problems, you can go to the international student desk for students and they will help you so that you don't feel like you are alone. In my laboratory, everyone makes sure you are heading straight toward your goals
Everyone is genuinely interested in helping you succeed. Their high level of ability and professionalism is really exceptional.
Finally, if you would like to study in Japan, I strongly recommend Chiba University.
A Study Abroad Report
Chiba University Graduate School of Medical and Pharmaceutical Sciences
Major: Frontier Medicine and PharmacyMolecular Virology Laboratory
Nan Nwe Win
I had an ambition to study abroad since I have got medical doctor degree ( MBBS) in 2004. However I studied Master degree concerning with bacteriological profile of asymptomatic bacteriuria in pregnant women and I got Master of Medical Science (MMedSc Medical Microbiology) from University of Medicine (1), Yangon. In 2015, I have received an opportunity to study PhD course in Graduate School of Medicine, Chiba University arranged by JICA.
Now I am doing research about Hepatitis C viruses in Department of Molecular virology and Department of Gasteroenterology and Nephrology. I can learn high techniques used in laboratory while doing my research. I have been attended to Japanese language class twice a week. So, now I can speak and understand some japanese words. Moreover, I have been known japanese work style, their culture, weather and food etc. In addition I have a chance to visit to famous and beautiful places in Japan. So, I really want younger generations to study Master and PhD degrees in Japan.
Nagasaki University Department of Science and Technology, Graduate School of Engineering
Yuzana Win (Ms.)
There are three reasons why I chose to study in Japan. First, when I was studying the doctoral course of Information Technology at the Mandalay Technological University (MTU), which is located in the center of Myanmar, I had a chance to apply for the Japan International Corporation Agency (JICA) scholarship program. Second, I would like to study the advanced technology for my research field in a developed country like Japan. I also heard Japan was one of the highest education standards in the world. Moreover, Japan is safe and peaceful country and culture is very close to ours. Third, our ministry, Ministry of Science and Technology (MOST), has been making the great efforts to do researches which are essential to the development of human resources of the country. I also want to be a skillful teacher and study future technology. That is why, I chose Japan to study, and JICA scholarship program is a good opportunity for me to apply. Fortunately, I was selected as a Ph.D. candidate of Nagasaki University through the JICA scholarship program for 2014.
When I arrived at the Nagasaki University, most of the people were really good and helped me a lot. But I was facing the language barrier outside my university campus. Therefore, I have been taking the Japanese class to improve my language skills. I recommend everyone who wants to study in Japan had better learn Japanese language before coming.
Nagasaki is one of the famous prefectures in Japan. I visited Unzen and Shimabara, which were famous for host spring and volcano, together with all international students. The Nagasaki Peace Park, Mount Inasa, Glover Garden, Chinatown, etc., are also popular in Nagasaki.
I am satisfied with my choice of studying in Nagasaki University.
日本で留学してよかったと思うこと
Okayama University   THAE HSU HSU SAN
 私は文部科学省の奨学金をもらって一年間日本に留学しました。日本に留学できて本当によかったと思います。留学して私の人生には大きな変化があったからです。
 日本に留学する前は親のもとで人生を心配なくのんびり過ごしていたので、留学するときは非常に不安な気持ちでした。
 留学の時一人暮らしをして、自分自身も成長しました。自分一人では出来そうにないと思ったとき、「自分はもう大人なんだ」と言い聞かせて頑張りました。独立心は海外生活で一番肝心なことだと思います。
 一年間、日本人だけでなくいろいろな国からの友達と交流し、留学生活を楽しみました。アルバイト、ボランティア活動、ホームステイ、日本の行事と祭り、旅行などいろいろな体験をしました。これらは日本語の上達、日本文化の理解に役に立ちました。各国の異文化への適応力もつきました。社会に出ていろいろな人と出会い、その中で家族みたいな友達もできました。
 日本での留学は専門の勉強ばかりでなく、社会勉強もできて本当によかったです。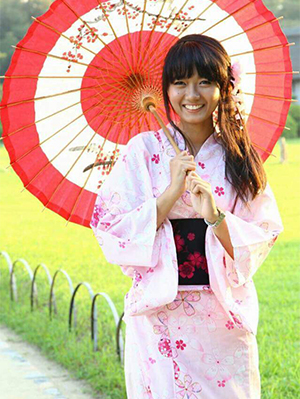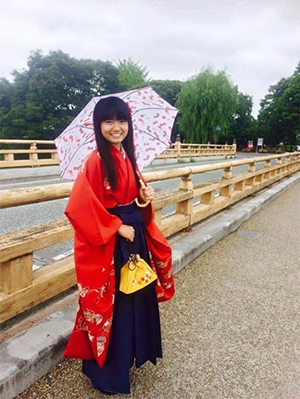 My Experience in Okayama University
Okayama University  Aye Nyein Ko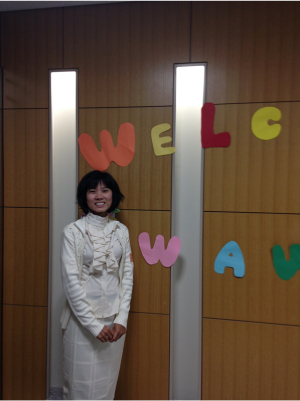 At welcome party of WA WA
I am Aye Nyein Ko from Myanmar, who is a Senior High School, biology teacher .I joined the Teacher Training Program of Okayama University for one and a half years. I was selected as an applicant for Monbukagakusho (MEXT) scholarship by Japan Embassy in Myanmar. I applied Okayama University and waited for result. At first, I received an email from Japan embassy in Myanmar that I was accepted by Okayama University. This is my first priority in my application form. I did not know how to express my happiness at that time.
I also received a letter from International Centre of the University. I have not filled my email address in the application form. So, they sent me a letter .In that letter, there was a guide book how to come to the university from the airport. This letter lets me know that Okayama University is warmly welcome to the international students.
Two weeks before coming Japan, coordinator of the intensive Japanese Language course , Tomomi Moriya Sensei sent me an email to inquiry my background knowledge of Japanese language. When it was near the departure date, my Academic Professor Motonori Ando, sent me an email to pick me up at the Okayama Station. It was my first trip to a foreign country. Especially, at that time I didn't know how to communicate Japanese with their language. After receiving the emails, my fears ran away. I realize that Japanese people are kind.
When I arrived at the Kansai International Airport, I met kind Japanese people who helped me to buy bus ticket and who looked after me on the bus to Okayama. My professor picked me up at the Okayama Station and helped me everything I needed. I realize how kind he is when I met him.
During the first Semester of my arrival, I had to attend the intensive Japanese Course. It was a very happy experience for me learning Japanese together with international students. Moriya sensei, Banno sensei, Umekawa sensei, Akita sensei, all Japanese language teachers are kind and effective in teaching. My language proficiency progresses quickly.
I am also interesting in the classes of Study Of Japan. I also enjoyed the school visits to Minami High School and Sanyo Elementary School. Being a teacher I really appreciated those experience of school visits. Moreover, I also went to Gakugeikan Private Junior High School and did home-stay in Himeji City .I got a chance to study how private school in Japan runs. By the study of Japan classes, I could also study the culture of Japan like tea ceremony. Tatami-berry factory, dried fruit business, I enjoyed a lot. When we went to Kotohira island through great Seto bridge, I enjoyed the most delicious udon noodle in Japan.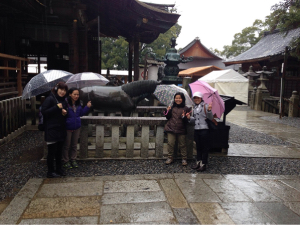 At Kotohira island
I got a tutor to look after me arranged by the international center, namely Eriko Abe. She looked after and loved me like her real daughter. She became friend with all my friends and we all became intimate friends. And I got a chance to live at Kuwanoki dormitory with cheap cost in compare with other dormitories. Near the university, a kind manager, safe environment made me relax to live there. I would also like to express my thanks to the president of the Okayama University for allowing us, teacher trainers, to stay along the whole program at the dormitory.
I could practice my Japanese Language speaking proficiency with Japanese students at Language Café .Every week, there was a special event. The memorable events were making kimono by paper cutting, eating lucky ehoumaki sushi, bean-throwing event(mame maki).I also loved the trip arranged by L-Café to Yakage city to see the samurai parade and study Japanese dried fruit ( kaki) business.
Yakage trip by L-café together
with dried kaki (fruits)
At the second semester, my professor and my laboratory friends warmly welcomed me .I got Inoue as a tutor for helping me .I attended the classes of my professor for the prospective elementary teachers. I have learned much knowledge about how to teach biology effectively to the students. My tutor helped me by translating difficult Japanese words to English. I also studied the courses and textbooks of Senior High School Biology.
At laboratory of cell physiology, I have learned how to use various microscopes (fluorescence, digital, electron etc.) and many sophisticated machines like ultramicrotome used in studying cell physiology. I also studied how to culture microorganisms, how the students conduct their researches. I have got much knowledge by attending seminars of our department .I also did a pilot study on absorption of Caesium and Strontium ions by Euglena gracilis. We, all members of cell physiology, gathered often and cooked and ate both Japanese food (nabe, Japanese hot pot, takoyaki) and Myanmar food (tea leaf salad, rice noodle, coconut noodle).
I got many international and Japanese friends and explored many beautiful places in Japan, ate many delicious food, bought popular Japanese kimono clothing, watch, camera and many other Japanese products for souvenirs. I took a lot of photos with beautiful scenery, cherry and also wearing kimono and yukata.
I would like to express my thanks to all members in Okayama University for creating me a friendly environment to study in a foreign country.
I really appreciate the experience in Okayama University and all of these memories will be unforgettable for me when I come back to my countries. Sweet memories!!!!