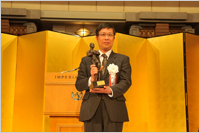 Jian-Ren Shen is awarded the prestigious 2012 Asahi Prize
Professor Jian-Ren Shen of the Graduate School of Natural Science and Technology (Faculty of Science) was awarded the 2012 Asahi Prize for his achievements of his 'Elucidation of Molecular Mechanisms in Water Decomposition / Oxygen Evolution in Photosynthesis'.
The Asahi Prize was founded in 1929 by the Asahi Shimbun Foundation. It is awarded to individuals or organizations that have made significant contributions to the development and improvement of Japan's culture and society by outstanding achievements in the fields of science or arts. This award is an extremely distinguished prize, and many of its past winners have gone on to receive the Nobel Prize or have been decorated with the Order of Culture.
Professor Shen is renowned for his research on the structural analysis of photosynthetic proteins. In 2011 he used Japan's world-famed SPring-8 (Super Photon ring-8 GeV) synchrotron radiation facility to clarify the reaction mechanism responsible for generating oxygen during photosynthesis in plants via the adsorption of light energy in. These results received tremendous international attention, which led to the research being selected by AAAS Science Magazine as a 'Breakthrough of the Year 2011'.
The Asahi Prize was jointly awarded with Professor Nobuo Kamiya of the OCU Advanced Research Institute for Natural Science and Technology of Osaka City University, who was the joint researcher on this project. The prize-giving ceremony was held in January 31 at the Imperial Hotel in Hibiya, Tokyo.
The Asahi Prize:
http://www.asahi.com/shimbun/award/asahi/english.html
Breakthrough of the Year, 2011:
http://www.sciencemag.org/site/special/btoy2011/
Spring-8:
http://www.spring8.or.jp/en/