Undergraduate
Students who want to major in archaeology can take introductory classes on archaeology in their first year, and then belong to the course of History and Archaeology from the second year. In addition to lectures and small group seminars where you learn about prehistoric and protohistoric period of Japanese Archipelago and basic archaeological methods and theories, you get training in practical methods and skills for archaeology by taking practical sessions. You also have opportunities to take part in a number of fieldworks to acquire a sound knowledge and skill of archaeological field techniques. An ability to do original research independently is fostered by writing a dissertation in the final year.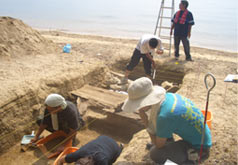 Graduate
As our staff covers a wide range of topics and fields of archaeology from practical techniques to various archaeological theories, you can get a well balanced teaching and training in our graduate program. You can acquire a skill to conduct an archaeological fieldwork by taking part in excavations and laboratory works. You will get a desk in a room for graduate students of archaeology on the same floor with rooms of academic staff and seminar rooms. An intimate environment is one of the merits of our education system that provides you with convenient access to archaeology books and computers, and frequent communication with your supervisor.

Our staff can supervise researches that fall within or related to the following themes:
Prehistory of Japanese Archipelago (Jomon period) and surrounding areas
Protohistoric period of Japanese Archipelago (Yayoi and Kofun period)and surrounding areas
Comparative archaeology
GIS and spatial analysis in archaeology
Evolutionary archaeology
Cognitive archaeology
Gender archaeology
Please contact us for more information if you are planning to enter our graduate course.