President's Welcome Message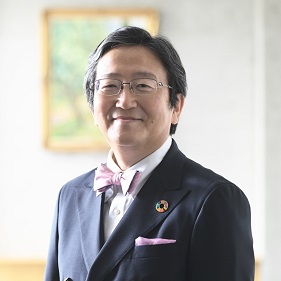 Okayama University was founded as a comprehensive university in 1949, by a group of eminent and historically significant institutions of higher education, including the Okayama-Han (Domain) Medical Training School, which was founded in 1870.


Since its founding, Okayama University has achieved great heights, expanding to include 10 faculties, 7 graduate schools, four authorized research institutes, a university hospital, and several attached schools. Our university has large, richly verdant campus situated right in the heart of Okayama City, which experiences such a mild climate that it is known as "The Sunny Country." At present, about 20,000 students, including exchange students and faculty members, are committed to learning and working in this felicitous environment.


The university's founding philosophy is expressed as the "Creating and fostering higher knowledge and wisdom." This philosophy indicates that to promote the stable and sustainable advancement of human society, we must constantly build new knowledge bases. As a seat of learning that is open to the public, Okayama University hopes to create advanced knowledge through educational, research, and philanthropic activities, pass precise knowledge down to subsequent generations, thus contributing to the development of human society.


To realize its goal of "Planetary Health," Okayama University has developed long-term as well as mid-term visions.
Currently, we are promoting the long-term vision for the year 2050, of becoming "A Research University that Cocreates the Future for the Region and the Earth and Contributes to Global Innovation," by strengthening collaborations with local and global stakeholders.
We are also promoting the mid-term vision 3.0 (2022–2027) of becoming "A Research University that Together Creates and Nurtures a Bright Future."


Okayama University has continued its efforts to create Okayama's own unique "academic capital," i.e., our "academic capital conception." As the newly appointed president of our university, I will advocate for and strive to achieve our new vision of becoming an "Academic capital with pride and hope."


To realize our new vision we are promoting transformation of the university management system with the spirits of "FUEKI-RYUKO". FUEKI-RYUKO is a traditional soul of Haiku poem founded by Basho Matsuo. FUEKI is defined as things should not be changed (immutability) and RYUKO as things should be changed (fluidity). As FUEKI, Okayama University pursuit the sustainable Well-being of people who are involved with Okayama University and those who will be involved with Okayama University (multi-stakeholder). As RYUKO, Okayama University promotes innovative change in the organization, education and research systems that anticipate and lead national policies and regional aspirations, based on an understanding of social conditions in Japan and overseas.
While promoting the spirit of "FUEKI-RYUKO" and proactively transforming itself, Okayama University aims to be "Academic capital with pride and hope" that contributes to the sustainable development of human society through solving regional and global issues.


We look forward to your continued understanding and support of Okayama University.
NASU Yasutomo
President , Okayama University