Okayama University Vision 2.0 and Okayama University Long-term Vision 2030
Based on our approach of "Creating and fostering higher knowledge and wisdom", we pursue education and research as well as real-life societal applications with the goal of "Building up a new paradigm for a sustainable world".
For our third mid-term target period (2016-21), we selected "important support framework number three" from among the three financial support frameworks available to national university corporations, and as a university striving to achieve educational and research standards ranking among the top universities of the world we established the Okayama University Vision, founded upon the FY 2014 Okayama University Reform Plan. We then created five strategies in order to realize the Vision and have been pursuing efforts toward their fulfillment.
President MAKINO Hirofumi, who became University president in FY 2017, sustained existing efforts while establishing new goals aimed at contributing toward the achievement of the SDGs. In FY 2019, we reflected back on efforts thus far in order to determine which issues required attention and created the redesigned University vision, Okayama University Vision 2.0, in order to tackle the wide range of new challenges resulting from rapid changes in university operating environments, new issues related to the emergence and pursuit of Society 5.0, and other such changes.
We established three new strategies in FY 2019: (1) educational reforms, (2) research strengthening and greater industry engagement, and (3) University management reforms. These are improved versions of and replacements for the five strategies in the original Okayama University Vision, and based on them we have pursued renewed efforts. Functioning as a research university for the advancement of SDGs and well-being that continues to create and deliver new value to the world, we leverage the innate skills and traditions of the Okayama region to build a better society leaving no one behind. In this way, we intend to realize University management with emphasis on the SDGs during the three-year period from 2019 to 2021, and apply the fruits of these efforts toward fulfillment of the long-term vision aimed at the year 2030.
May 2019
National University Corporation
Okayama University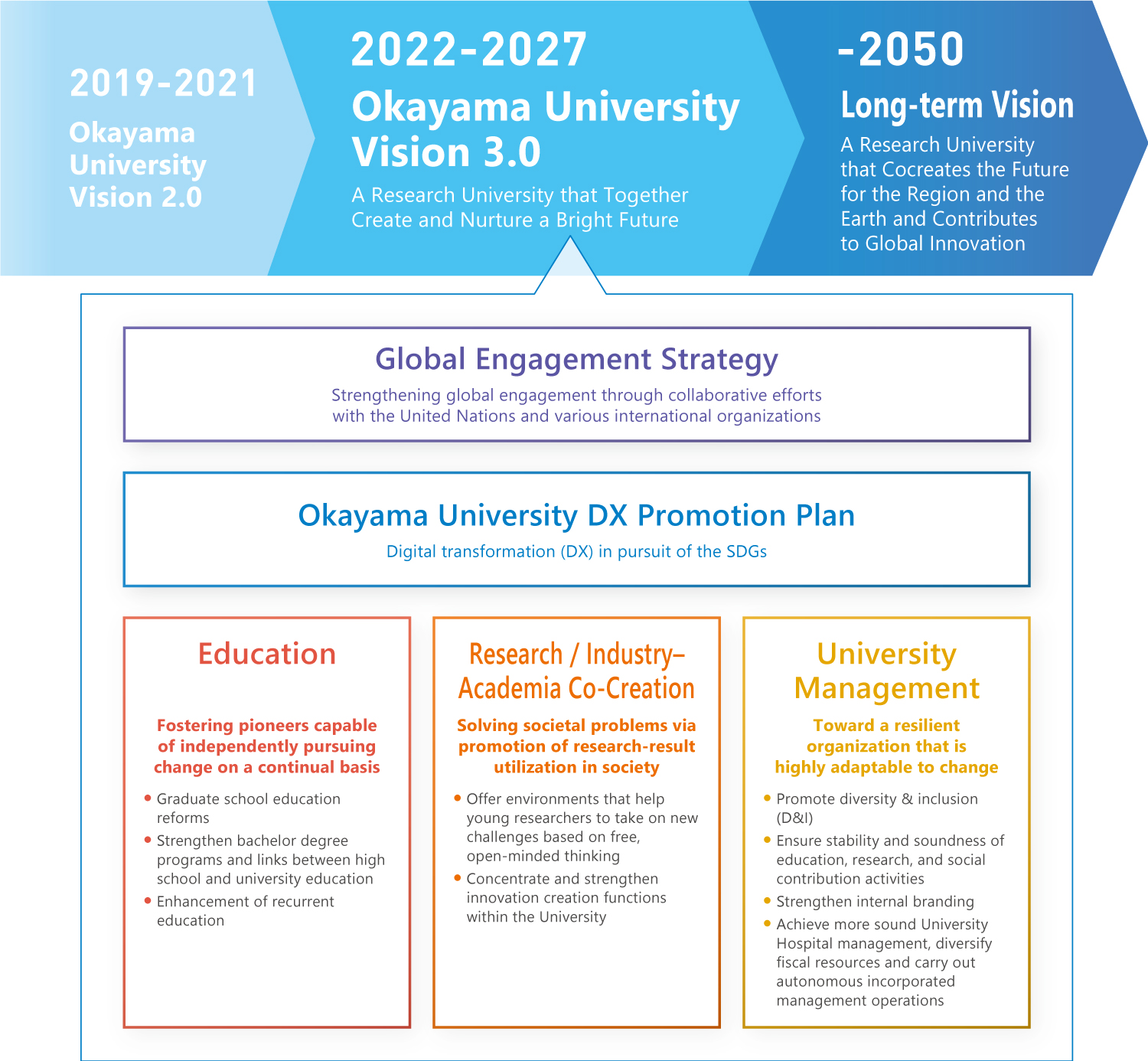 Okayama University Vision 2.0 and Okayama University Long-term Vision 2030