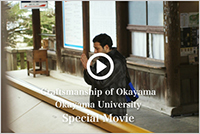 Okayama University Special Movie "Craftmanship of OKAYAMA"
Recently, a movie clip showing student life at Okayama was made.
Okayama University was first founded in the Chūgoku and Shikoku regions. There are two campuses within the city, and there are also facilities in the areas of Higashiyama, Hirai, Kurashiki, and Misasa. In Okayama Prefecture,which is blessed with the fortune of having a warm climate and views of the mountains and ocean, and basks in traditional Japanese culture, you can enjoy a student lifestyle overflowing with creativity.
▼ URL
https://www.youtube.com/watch?v=KU3hOIXS5kk&feature=youtu.be