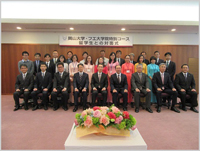 Ninth course students of Okayama-Hue International Master's Program meet their sponsors
On 26 April 2017 eight students from Vietnam of the ninth course students of the Okayama-Hue International Master's Program—a joint program between Okayama University and Hue University, Vietnam—met the companies sponsoring their scholarships after their arrival in Japan. Speaking in Japanese, the students expressed their gratitude to their sponsors for providing them with an environment where they can devote themselves to study and described their impressions of Okayama City and Okayama University and their enthusiasm for their research during their master's program.
Under this program, Vietnamese students in environmental and agricultural studies receive education for a year and a half in Vietnam, after which they transfer into the master's course of the Graduate School of Environmental and Life Science at Okayama University as second-year students and will receive a master's degree upon completing the course. The scholarship links the Vietnamese students in a one-on-one relationship with the supporting companies or individuals who endorse the program's principles.
Attending the ceremonial meeting were Okayama University's Executive Vice President for International Affairs Hiroshi Kanzaki, and Executive Vice President for Education Hiroshi Sano. The sponsors provided words of encouragement, saying, "We think you will find research arduous, but we hope you will visit many places in Okayama, interact with many people, and serve as a bridge between Japan and Vietnam after your return home, telling people there about the good things in Okayama. Please take care of your health and do your best during your year here."
Further information
Okayama University (English page)
http://www.okayama-u.ac.jp/eng/news/index_id6770.html
Okayama University (Japanese page)
http://www.okayama-u.ac.jp/tp/news/news_id6665.html