Welcome reception held by Okayama University and the U.S. Department of State for CLS American students
Okayama University is the first national university selected to host American students who have been accepted to the Critical Language Scholarship (CLS) Program. The competitive scholarships funded by the U.S. Department of State were awarded to 26 outstanding undergraduate and graduate students who have shown outstanding academic ability and leadership potential at their colleges and universities. The program runs for eight weeks from June 14 to August 10, offering highly intensive course work in Japanese language and culture at Okayama University. A welcome reception was kicked off on June 17 at the Okayama University International House.
In his welcome speech, Okayama University President MAKINO Hirofumi said that, while studying abroad, he adopted a positive and optimistic attitude and learned to appreciate his own Japanese culture from a different perspective. He encouraged students, regardless of how they feel about the upcoming program and life in Okayama, excited or nervous, to take a new step forward and participate actively in the program. CLS students briefly introduced themselves in Japanese by telling where they were from and sharing any Japanese words and phrases they liked most. Then, Mr. David Anderson delivered an engaging speech on behalf of the CLS cohort, saying that they would spend eight productive weeks in Okayama so they could broaden their perspectives and knowledge through cross-cultural exchange and learn to see the world from diverse viewpoints.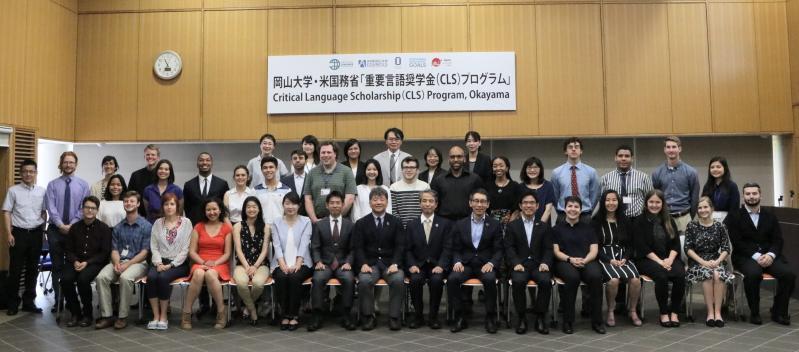 Further information
American Councils for International Education
https://www.americancouncils.org/programs/critical-language-scholarship-program