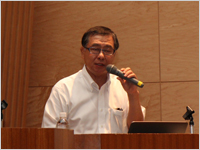 Itsuo Nakano is one of the international group of scientists involved in research on the discovery of the Higgs Boson selected by AAAS Science for Science Breakthrough of the Year 2012.
The AAAS Science Magazine announced its ten 'Breakthroughs of the Year' for the scientific world in 2012. The top breakthrough was chosen to be the discovery of the Higgs boson by an international team at the European Organization for Nuclear Research (CERN). This research was conducted jointly between CERN and researchers located all of the world including Okayama University's Professor Itsuo Nakano, of the Research Core for Extreme Quantum World's.
The Higgs boson was the one undiscovered particle of the 17 essential particles of elementary particle physics. As the particle giving mass to elementary particles, it has been called the 'God particle' and its discovery has major scientific significance. Okayama University will continue through Professor Nakano to work on elucidating the properties of the Higgs boson in close conjunction with other research organizations worldwide.
Recently, Science Magazine chosen the structural analysis of photosynthetic proteins by Okayama University's Professor Jian-Ren Shen as one of the breakthroughs of 2011.

Science "Breakthrough of the Year, 2012":
http://www.sciencemag.org/site/special/btoy2012/
Center of Quantum Universe, Faculty of Science, Okayama University:
http://fphy.hep.okayama-u.ac.jp/center-qu/index.html