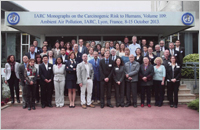 Assoc. Prof. Dr. Takashi Yorifuji Attends World Health Organization Meeting
Associate Professor Dr. Takashi Yorifuji of Okayama University's Graduate School of Environmental and Life Science participated in October 2013 (Lyon, France) as the only expert from Japan in a working group to evaluate the relationship of outdoor air pollution and carcinogenicity under the International Agency for Research on Cancer (IARC) of the World Health Organization (WHO).
The working groups consisted of experts on epidemiology, exposure, bioassays, and mechanisms. Associate Professor Yorifuji was a member of the epidemiology group that was comprised of seven researchers from around the world. The epidemiology group has deliberated the relationship of cancers such as lung cancer to outdoor air pollution, based on worldwide epidemiology papers, and has concluded that "a relationship between outdoor air pollution, in particular particulate matter, and lung cancer has been consistently found and the evidence is sufficient."
The IARC, combining the findings of the epidemiology group, bioassays group and mechanisms group, has classified outdoor air pollution and particulate matter as carcinogenic to humans (Group 1) out of its five levels of carcinogenicity. The results of the evaluation are scheduled to be published on the IARC's website as a WHO monograph.
Associate Professor Yorifuji said that "Air pollution and particulate matter are recognized as having a relationship to lung cancer even in regions with lower levels of air pollution than Japan, such as the United States; we certainly need ongoing measures against air pollution in Japan."
International Agency for Research on Cancer (IARC): http://www.iarc.fr/