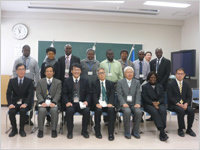 African Educators Begin Course at Okayama University
Educators from Africa, including elementary school teachers, began a two month course in elementary mathematics and science education on 14 January 2014. The course is being taught by instructors from Okayama University.
Although school attendance rates have improved in Africa there are still issues related to raising the quality of education. Thus in response to demands for improving education standards in Africa, this course was devised as one part of the Region-Focused Training Program of the Japan International Cooperation Agency (JICA). The course participants will revise lesson plans that they made prior to their arrival in Japan through classes at the university, and at the end of the course will teach pupils at Okayama Municipal Ishima Elementary School.
In addition to the course participants, the opening ceremony held at the Faculty of Education Hall was also attended by Dr. Masaru Araki, Director of the International Center; Dr. Masaru Kaga, Dean of the Graduate School of Education; and Takeo Ishikawa, Head of the Chugoku JICA Training Program Section. In his speech Dr. Araki said that, "elementary school education plays an extremely vital role as the foundation of all subsequent education, and we hope that the course will be of use to the future of the children and nations of Africa."