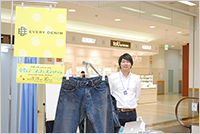 Okayama Travelogue
Okayama denim and Okayama University student's jeans venture company
Okayama Prefecture has a long history of manufacturing textiles. The most recent addition to this tradition is Okayama denim and Kojima, the birthplace of jeans in Japan.
There are many brands of denim made in Okayama and even a 'Jeans Street' in the Kojima district of Seto Inland Sea (Seto Naikai in Japanese). Examples include Kojima Genes; Denim Closet from Kurashiki; The Strike Gold; and Tenryo Denim. Irrespective of the brand, all the jeans are made in Okayama using denim material that is also made in Okayama.
Notably, in September 2015 students from Okayama University launched the venture company 'Every Denim'—that was awarded the top prize in the 'Global Shapers Community Tokyo Start Up Challenge Cup' at a forum held in March 2015. The Every Denim website features interviews with jeans manufacturers and a wealth of information about Okayama denim industry.
One of the main reasons for the award is that Every Denim directly connects factories where jeans are made to consumers. The company uses their website to highlight jeans made at factories in Okayama. This business model allows Okayama's jean's manufacturers to produce and sell jeans directly to customers without going through intermediary companies.
Further information
Okayama Prefectural International Tourism board
http://okayama-japan.jp/en/skillfull/okayama-tokusan/jeans.html
Every Denim (Japanese)
http://everydenim.com/