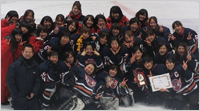 Club Activities
Okayama University Women's Ice Hockey Club
The women's club was set up in 2007. The Club currently has approximately 16 players and 8 'managers' who look after the players. Notably, all the new members of the club are complete beginners when they join. The students are from many disciplines ranging from medicine to economics.
"A positive attitude with the ability to keep standing up no matter how many time you fall is important to become a good ice hockey player," says Moeko Oda "It's a fast game, with many quick changes, so players must be resourceful and alert and watch your team mates carefully. We are grateful to all the people who support us and provide the facilities to practice and play ice hockey"
The members of the club practice at the Okayama International Skate Rink in Okayama city, and Health Pia, in Kurashiki city. "All the players are also affiliated with the Okayama Ladies Ice Hockey team," explains Moeko. "We regularly practice with the Okayama Ladies well as training by ourselves. The Okayama Ladies team coach helps to train."
The Okayama team has two major tournaments ahead of them. The first one is the Miyabi Cup in March and the other is the All Japan Women's Ice Hockey Tournament. "We have won the Miyabi Cup for two consecutive years," says Moeko. "We are a very bright and lively team. Join us!"