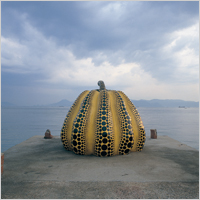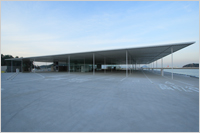 Okayama Travelogue
Contemporary art on islands in the Seto Inland Sea
The Tsushima Campus of Okayama University is a short 15 minute taxi ride north of Okayama Station. A 50 minute train ride in the opposite south westerly direction from Okayama Station leads to Uno Port, where visitors can enjoy spectacular views of the islands of Naoshima, Teshima, and Inujima in the Seto Inland Sea. Intriguingly, in spite of the short 20 minute ferry ride from Uno Port to Naoshima, the island is part of Kagawa Prefecture, in Shikoku.
The Naoshima, Teshima, and Inujima islands are home to inspiring contemporary art museums known collectively as the Benesse Art Site Naoshima opened by Benesse Holdings, Inc. and the Fukutake Foundation in 2004.
One of the highlights of the Benesse Art Site Naoshima is the Chichu Art Museum designed by Japan's Tadao Ando, with most of the buildings being located underground so that the museum blends into the natural beauty of the island. The permanent exhibits include masterpieces by Claude Monet, James Turrell, and Walter De Maria.
The islands are a popular attraction for visitors from all over the world some of whom take the opportunity to stay overnight at one of the wide range of hotels on the islands for a leisurely look at the exhibits and breath taking sites of the inland sea.
 
Benesse Art Site Naoshima: http://www.benesse-artsite.jp/en/
Guide to Naoshima: http://www.naoshima.net/en/index.php
NOTE: All the photographs in this article were taken in Naoshima.