Neuro-intervention Section

Department

Neurological surgery
Home Page http://neuro.hospital.okayama-u.ac.jp
What is neuroendovascular therapy?
"A cure without craniotomy" is our main goal. Cerebrovascular diseases are treated by using a catheter and special devices under fluoroscopic guidance without cutting the body open. Endovascular treatment is new and "patient-friendly." Our IVR center is one of the most experienced in Japan.
Illustrative cases and our clinical practice
1)Cerebral aneurysms
In addition to standard coil embolization, stent-assisted coil embolization will be used for patients with difficult-to-treat aneurysms. A newly developed flow diverter stent is also available in Okayama University. In Japan, the flow diverter stent is only available for certain patients in selected institutes. The flow diverter stent can achieve aneurysm thrombosis through a combination of flow diversion and reconstruction of the parent artery.
Detachable coil for aneurysm embolization and method of coil embolization
Soft detachable coils are placed into an aneurysm sac to prevent future bleeding.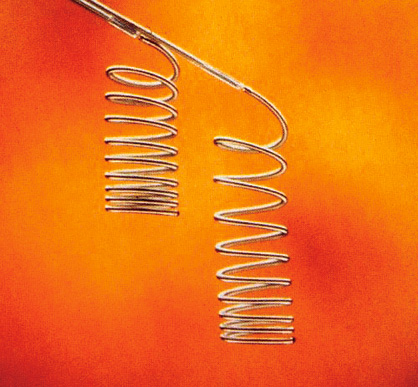 Right Upper row: Standard coil embolization, or "simple technique." Right Middle row: Stentassisted coil embolization for wide-neck aneurysm. Right Lower row: Flow diverter stent for very difficult aneurysms. Complete cure can be obtained by flow diverter stent without using coils.
Photos of coil embolization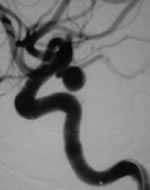 Before embolization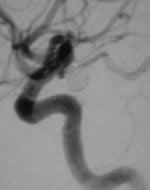 After embolization
(complete occlusion)
Coil( black mass)
2)Cerebral arteriovenous malformation
We use new liquid embolic material called ONYX for this rare and difficult-to-treat cerebrovascular disease.
3)Spinal arteriovenous malformation
Our university has experience with embolization for this very rare disease. We use various materials including NBCA glue, Embospheres, or coils in the embolization of this complicated disease.
4)Dural arteriovenous fistulas
We have extensive experience with treatment for this relatively rare disease, with accurate knowledge of the anatomy and clinical conditions.
5)Carotid artery stenosis
In addition to Carotid Endarterectomy, which is standard surgical treatment for carotid artery stenosis, Carotid Artery Stenting (CAS) is performed as a minimally invasive alternative. Our recent results with CAS are remarkable.
Carotid artery stenting: Method and picture of stent
A self-expandable stent is inserted into the narrowed carotid artery.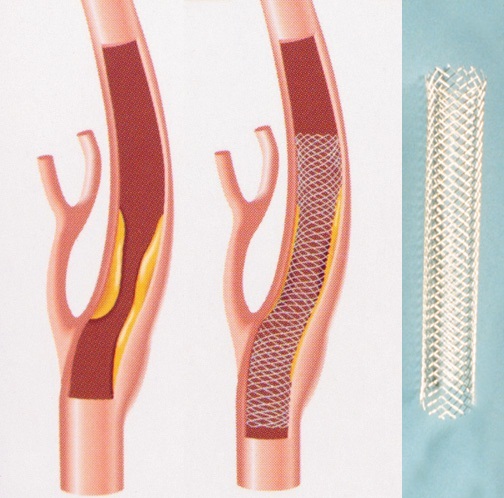 Pictures of carotid artery stenting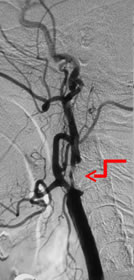 Pre-stenting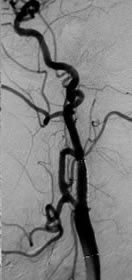 After stenting
(Carotid artery was dilated by stent)
Treatment of acute ischemic stroke is one of the most dramatic in daily medical care. Recent clinical studies clearly demonstrated safety and usefulness of endovascular thrombectomy in the treatment of intracranial large vessel occlusion.
 In our IVR center, experienced neurosurgeons perform this minimally invasive and "patientfriendly" therapy using catheter-based technique and trained staff.