Medical Staff
Radiologic Technologists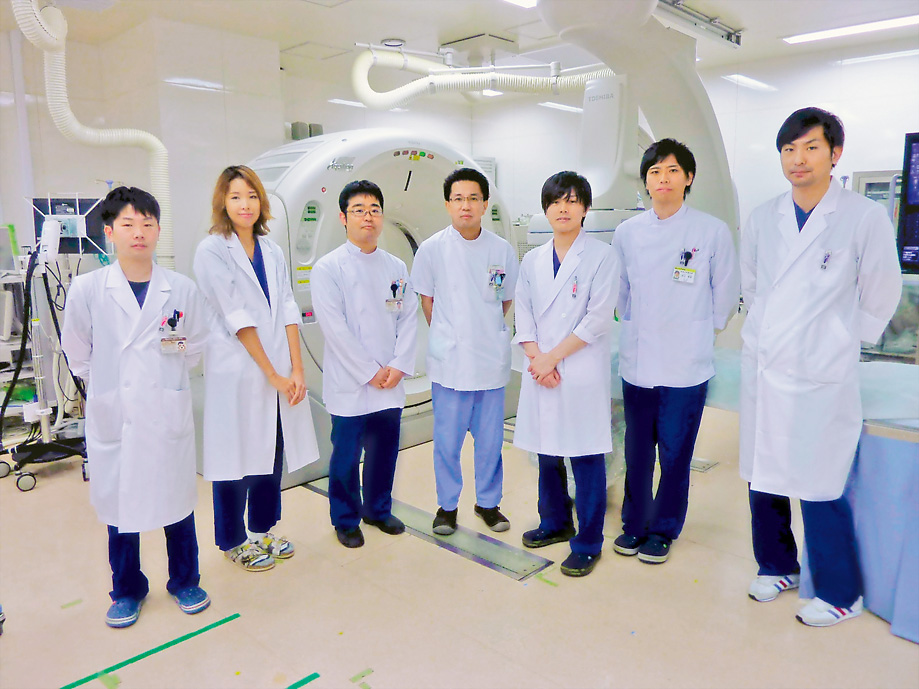 Home Page http://www.okayama-u.ac.jp/user/hos/ms/rad/
Experienced radiologic technologists perform CT, MRI and angiography at the IVR Center to ensure that staff physicians have the highest quality images for accurate diagnosis and treatment. Radiologic technologists place a priority on delivering safe medical care for patients and protecting staff by ensuring the optimum settings for radiation exposure for tests and treatments.
They also participate in academic conferences, acquire certifications and share knowledge and information among the entire staff - physicians, nurses and clinical engineers - to provide safe and comfortable tests and treatments.
Nurse
Home Page http://nurse.hospital.okayama-u.ac.jp/
Specialists at the IVR Center provide diagnostic and treatment services for patients with severe conditions such as cancer, cerebrovascular and cardiovascular diseases in close cooperation with physicians in all departments. Essential to the outstanding care provided by the Center are experienced nurses with specialized knowledge in a broad range of fields. Nine nurses on staff at the IVR Center have been awarded Intervention Nursing Expert(INE) Certification from the Japanese Society of Interventional Radiology.
In addition to providing professional assistance to the physicians at the IVR Center, nurses deliver outstanding care from the viewpoint of patients and their families during their stay at the Center.
Clinical Engineers
Home Page http://www.okayama-u.ac.jp/user/hos/ms/me/
Clinical engineers on staff at the IVR Center work as a team with physicians, nurses, and radiologic technologists. They provide diagnostic support to the Cancer and General Intervention Section for radiofrequency ablation treatment for tumors of the liver, lungs, bones and soft tissue, cryotherapy on small malignant tumors in the kidneys, coronary intervention, and to the Cardiovascular Intervention Section for cardiac electrophysiologic tests, percutaneous transluminal septal myocardial ablation and the implantation of medical devices.
Clinical engineers are also responsible for the management of medical engineering (ME)devices such as anesthesia apparatuses, defibrillators, and monitors.
Clinical engineers use their specialized knowledge and skill to provide diagnostic support with a priority on patient safety.