Voices of students
" I expect it to only get better from here on out."
My name is Caleb Stone. I am a Monbukagakusho Research Scholar studying a Masters of Psychology here in Okayama University in Japan. I have been taking Japanese Language lessons as well as preparing to complete my Masters course here on Psychology. So far, the university professors have all been extremely enthusiastic, dedicated and considerate. They understand the particular stresses that an international graduate student may be suffering from and attempt to help as best they can. The university is also close to the main city areas, close to the main train station, surrounded by amenities, and various very tasty places to eat. All in all, I have been enjoying my experience so far, and I expect it to only get better from here on out. 
Caleb Stone(New Zealand)
"4 years working on basic science research with the most advanced technology was extremely attractive to me."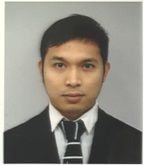 Hello, I am Pham Thanh Hai. I am from Vietnam and currently a PhD student at Okayama University, Graduate School of Medicine, Dentistry and Pharmaceutical Sciences, Department of Oral Rehabilitation and Regenerative Medicine. Now I am a last year PhD candidate, and I am receiving training in the field of stem cells, molecular biology and tissue engineering. Importantly, 4 years working on basic science research with the most advanced technology was extremely attractive to me. I could enjoy the daily activities in a scientific environment, and I also realized the difficulties involving research as well as the exciting feeling when obtaining a successful result and making new discoveries. I had already the opportunity to join several international conferences and achieved several published papers to share our recent research achievements with world-leading scientists. In the near future, I also expect to have high-impact research results and share the information in top scientific journals. I am absolutely confident that these steps will be of fundamental importance in my academic career both in clinical and basic sciences.
I have been staying here 4 years, everything has been familar with me, I do not know from when Okayama has become my second home. I am sure i will miss this place much when going back to my country. I will try to maintain and develop our collaboration more and more strengthened.
Bests!
Pham Thanh Hai(Vietnam)