Why Okayama University?
5 reasons why you should choose Okayama University.
Okayama University is a top-class national university with over 140 years of history. We have 11 faculties, 8 graduate schools and various programs. You can gain a unique learning experience which will positively impact the future success of your academic and professional career.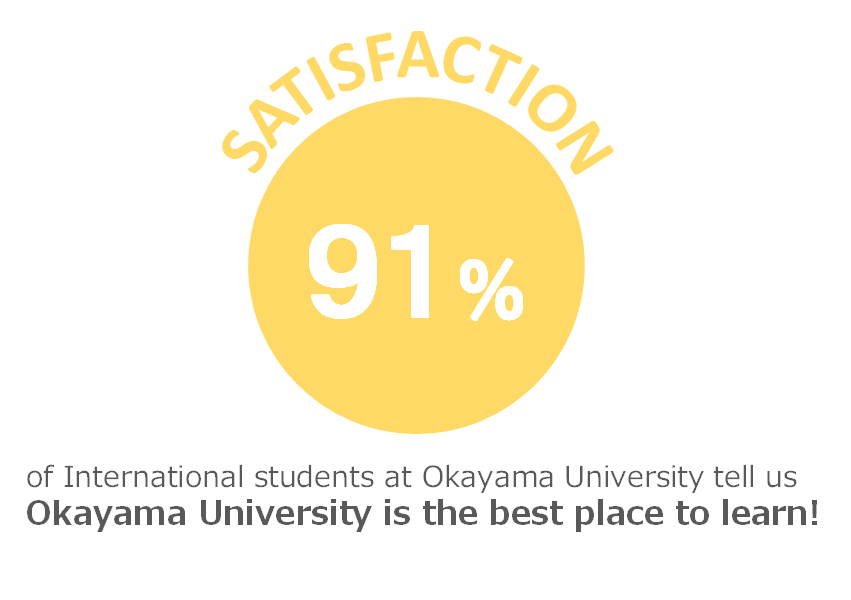 1. Excellence in Research
Okayama University ranks among the Top 14 Global Universities in Japan, Top 474 universities in the world, and Top 74 of Universities in Asia(Best Global University Rankings 2017 by U.S. News & World Report). We are one of the eight national universities that hold three major titles at the same time in Japan.
Clinical Study Core Hospital
Research University
Translational Research Network Program
You can choose the best program for your research interests. Ph.D. supervision is available in English.
Read about our research
Read about our courses(for graduate students)
2. Excellence in Education
Okayama University was selected as one of the 30 "Top Global Universities" in Japan. We believe it is crucial to engage students in active learning and develop their 21st century skills. Your lecturers and tutors are passionate, brilliant, and dedicated to sharing their insights and discoveries with you. In addition, offer undergraduate courses taught in English in the "Discovery Program for Global Learners" from October 2017.
Okayama University is proud to be the UNESCO Chair for the Regional Centres of Exercise on ESD(Education for Sustainable Development) and the only centre in Asia.
Read about our courses and programs(for undergraduate students)
3. Affordable Campus Life
Tuition Fee
Enjoy a tuition more reasonable than the U.S., U.K. and many other countries. As a National University, you can get access to the finest education Japan offers without breaking your budget.
Financial Support
We offer various scholarships and study-work programs for students in need.
Living cost
Compared to other parts of Japan, the living costs are extremely reasonable in Okayama.
4. Safe and Convenient
Okayama, known as the "Land of Sunshine", is relatively safe from natural disasters, and the crime rate is low. The terrain within the city is flat so it is easy to get around by bicycle. The university is conveniently located relatively near Okayama station, which is a central hub. You can get to Kyoto in 60 minutes by bullet train, and to Tokyo in three and a half hours.
5. Friendly and Welcoming
Support Staff
For international students,Institute of Global Human Resource Development will provide you with information and support to help you make informed choices about your academic career at OU. You can also visit the L-café to get help and make new friends.
Learning Japanese
Japanese language courses are open to all international students at OU. There are seven levels of instruction, ranging from classes to serve those with no Japanese skills to advanced level. The classes are FREE and in some levels you can learn about Japanese modern culture and movies while improving grammar, writing and reading skills.
Housing for International students
We have two dormitories and an International house for international students. In the students' dormitory, there are Japanese resident assistants (RA) who can help you adjust to life in Okayama. A new Share House for both international and Japanese students was opened in April, 2016.
Learning Japanese Culture Programs
What kind of university experience are you interested in? How does working in the fields in a traditional village sound? Or experiencing local culture such as Daimyo Gyoretsu or rice-planting? We offer various programs such as these for you to get the best out of life in Japan.
We love OKAYAMA UNIVERSITY <Join us!!> 我们 ❤ 冈山大学