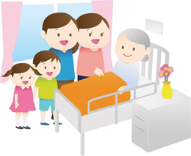 Allowable time: between 1:00PM – 7:00 PM
Please observe the time to ensure patients' rest.
If you want to visit a patient, ask a nurse.
We may refuse a request for a visit, according to the patient's medical condition.
For Protection against Infection

We ask children below elementary school age to refrain from visiting. And we also ask a person who have symptoms of epidemic diseases such as fever, vomiting, diarrhea, common cold, chickenpox, and mumps not to come for visitation. Especially, children under 18 year old including patient's sibling are not allowed to visit inpatients on the 2nd floor of Inpatient Ward (Pediatric Ward) including dining room/lounge area. Thank you for your understanding and cooperation.
Flowers are banned from some wards and rooms in the hospital, we ask for your cooperation.
You cannot visit a patient while a patient while under the influence of alcohol. Eating and drinking in the visiting room are strictly prohibited.
When you visit the patient's room or the surrounding area, be careful not to disturb other patients in the room.
Visitors shall obey instructions of a doctor, dentist, or nurse.
Smoking is strictly prohibited in the hospital premises. (Electronic cigarettes are also banned)
Parking fee discount is not applicable for visitors.
The Sky Lounge on the 11th floor of the Inpatient Ward may also be used for meeting family or as a waiting area. (Time available: between 8:00 AM - 8:00 PM)
In principle, we do not answer any questions about the admission or discharge state and medical conditions of the patient. Please notify your family and related patients of such information in advance as required.