For First-time Patient
:Do you

have

a "primary care clinic or doctor"?
Your primary care doctor means a clinic, hospital, or doctor providing daily medical treatment or consultation about health management or initial medical treatment when you contract or develop a disease. If you contract a disease, please consult with your primary care doctor first. When a detailed examination or specialized treatment is necessary, they can be expected to refer you to the most appropriate hospital soon.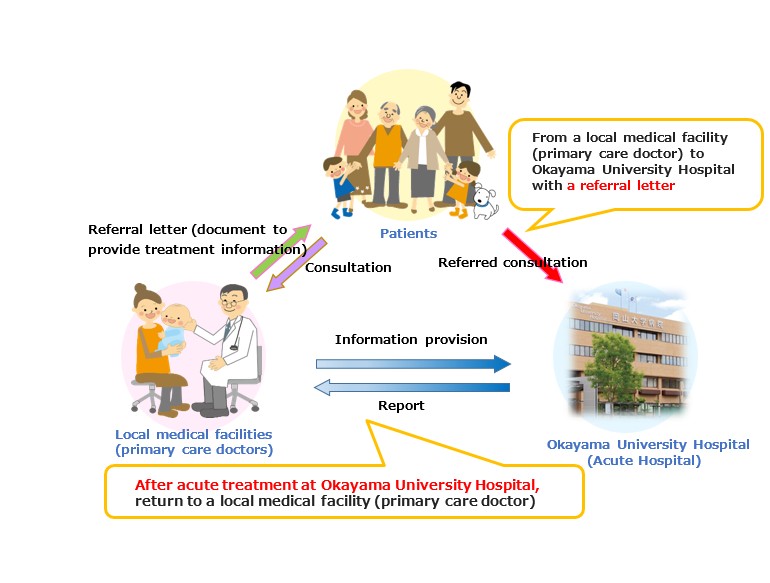 This hospital is approved as an advanced treatment hospital which provides high-level medical treatment. Therefore, patients are asked to bring a referral letter at the first visit.
With the patients with a referral letter, their primary doctor has made an appointment with this university hospital, in principle. To make waiting short or depending on each disease condition, doctors mutually refer their patients to ensure that they can receive continuous and exact medical service at the most appropriate medical facility.


Some departments are unable to provide any medical treatment for patients without a referral letter to this university hospital.

When you have no referral letter to this university hospital, please note that you must be charged the following "elective treatment fee (copayment at the initial visit)" in addition to first visit fee or re-examination fee:
 
Medical clinic
Dental clinic
Elective treatment fee at the initial visit
*When you visit this hospital with no referral letter
13,200 yen (inc. tax)
5,500 yen (inc. tax)
Elective treatment fee for re-examination
*When a patient with a stable disease, who was referred back to their primary doctor, continues visiting this hospital
3,300 yen (inc. tax)
2,090 yen (inc. tax)
Expenses for elective medical treatment for non-referral medical examinationsPDF