For return visitors to the Dental Outpatient Clinic
For return visitors to the Dental Outpatient Clinic
Outpatient service procedures for return visitors to the Dental Outpatient Clinic
Patients with an appointment (return visit)
Patients without an appointment (return visit)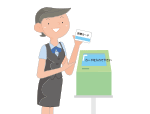 Return visit reception machine (1st floor, Medical Outpatient Clinic)
Reception hours/ 7:30 AM~4:00PM ※Please come to the Counter No. 2 after 4:00PM.
Insert your patient ID card into the machine to print an information sheet.
(Patients visiting 13 months or later after the previous visit with a health insurance card are received at Counter No. 2.)
Due to the relocation of the reception desk, Return visit reception machine on the 1st floor of the dental outpatient clinic will be unusable after the end of December 2019.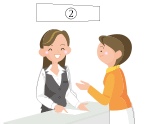 Counter No. 2 (First floor, Medical Outpatient Clinic)
Reception hours/ 8:30AM~3:00PM ※Those with reservations can be accepted after 3:00PM.
Please show your patient ID card, health insurance card, ID (passport, residency card or alien registration card), etc.
When you arrive before 8:30AM, please put the patient ID card in the patient ID card box placed at the desk and wait for a while.
Closed/ Saturdays, Sundays, national holidays, and year-end and New Year holidays
○If you do not have an appointment, a dentist in charge of cases without an appointment in each department will attend you.Thank you for your understanding.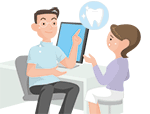 Consultation
After consultation, your next appointment is made at the department if needed. You will receive the information sheet.
Thereafter, please go back to the reception counter on the first floor.
Return the information sheet Counter No. 3(First floor, Medical Outpatient Clinic)
Please return the sheet to the Counter No. 3 (return port for "Today's Information" sheets).
If you have not shown your health insurance card yet, please go to Counter No. 2 (health insurance card
check) first.You will receive a numbered ticket for payment.

Please show a parking ticket if you drove here (at the 1st floor information counter from 8:30AM to 3:30PM).
 
Fee calculation
When your calculation is finished, your payment ticket number is displayed on the electronic display board.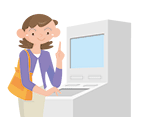 Payment
Insert your patient ID card into the automatic payment machine: today's fee is displayed.
After payment, you will receive a receipt (associated with an appointment ticket and a drug ticket) and the patient ID card.
Prescription of medicine
※In principle, we provide drug prescriptions as external prescriptions. Thank you for your cooperation.
Internal prescriptions
Bring the drug ticket to the drug counter (1st floor, Inpatient Ward).
External prescriptions
Bring the external prescription to a dispensing pharmacy or a pharmacy that accepts external prescriptions.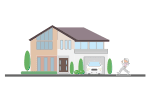 Return home