Attention
Please show us the following information at the reception desk:
(1) Your photo ID card (residence card or passport) and
(2) Your insurance (travel insurance, medical insurance).
We might be unable to provide you with medical care if you have neither of these.
These are required for the preparation of statistical data when we are asked to report on each patient's nationality and language to avoid accidental misidentification on examination and treatment. Your cooperation is appreciated.  
◆Payment method
Payment is accepted by cash, cash card (debit card) or credit card (JCB,AMEX,VISA,Master Card,DinersClub,Discover).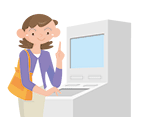 ◆I
nquiry contacts
We might be unable to respond to inquiry e-mails depending on circumstances or related details. 
We are not able to answer any question on diseases or treatment methods: please ask such questions in a consultation.
Many wrong number calls to our contact have been reported: please make sure to call the correct number.
2-5-1 Shikata-cho, Kitaku, Okayama 700-8558 Japan
TEL.+81-86-223-7151 Mon-Fri 9:00AM~5:00PM
Email : kokusai-shinryou@okayama-u.ac.jp