Interventional Radiology (IR, IVR in Japan) Center
Interventional Radiology (IR, IVR in Japan) Center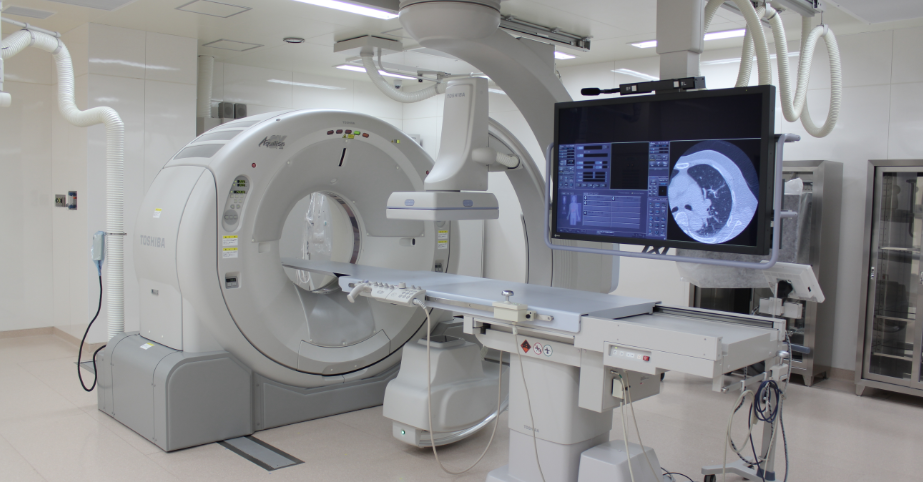 What is the Interventional Radiology Center?
Interventional Radiology (IVR) refers to minimally invasive treatment guided by images. Currently at Okayama University Hospital, various IVR treatments such as cardiovascular treatment with a catheter under X-ray fluoroscopy and CT image-guided radiofrequency ablation for lung cancer are offered mainly at a special imaging room of the Division of Radiology. These treatments do not leave scars on the body. In actuality, the treatment results are now comparable to surgery, and can be designated as "no-scalpel surgery". Each division has many doctors with outstanding skills. The excellent staff includes nurses, radiological technologists, and clinical engineers. The IVR Center organization is directly under the hospital and the division specialized to IVR treatment on the first floor of the Advanced Medical Center.
Management System
The Center comprises five sections of neuro-intervention, cardiovascular intervention, pediatric cardiovascular intervention, general and oncological intervention, and anesthesiology. The heads of each section will work as full-time instructors at IVR Center in the future. We also organized the steering committee with members including the heads of each division, head nurses, assistant head nurses, head technologists, and chief engineers. They hold regular meetings to manage the center efficiently. Through liaison meetings conducted with each related division, we strive to manage the center smoothly.
Management Policy
We aim to become a hub of IVR treatment in Japan and eventually in Asia. The center has already achieved the top-level scale and content in Japan. Even so, intensifying the organization as the center further enriches the content and enables advanced medical care. The IVR Center on the first floor of the Advanced Medical Center plans to have five angiography devices, two IVR-CTs, and one MRI for IVR, which makes the center an unparalleled large-scale and advanced treatment facility. The center's mission is to provide a high level of treatment that is friendly to the body and mind for many patients, using this cutting-edge equipment effectively. Cryotherapy for kidney cancer has already begun ahead of the rest of Japan. Okayama University Hospital will demonstrate its high level of performance also through IVR treatment provided at the center.